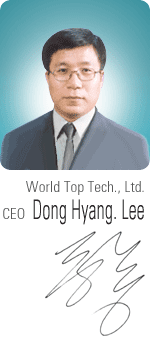 I would like to send sincere gratitude to all the customers and users of our products. World Top Technology (WTT), established in 1996 and holds 'highest quality, top-notch service' as its business policy, is a corporation that specializes in the production of Switching Mode Power Supply (S.M.P.S) for financial machines, industries and communication equipments which are required the highest credibility and efficiency.

Our technology research laboratory that is composed of skilled and specialized workers independently carriesout the design, the credibility tests undertaken under the strictest of conditions for the discovery and reduction of any errors, automated efficient production facilities and the thorough quality control and, furthermore, the swift after services. Such are the optimal working environment from which WTT always works for our customers'satisfaction. In 2003, as a result of such hard work, WTT was able to put its patented technology to practical use and developed the inverter and U.P.S. as a sine wave power generator without utilizing the linear transformer. Also, we have reached a step which can develop and produce the solar power system such as solar home system, solar landscape light, signboard, Warning Light, that is using sunlight as a source.
Through the company's research center WTT has developed network security software such as One-way P.K.I. (Public key Infrastructure) and ECC (Elliptic Curve Cryptography), which arethe most up-to-date coding system. We will continue to effectively support research centerfor the development of the optimal network security solution. Taking a step further, as part of the program to diversify the corporation's business into the most up-to-date business, WTT has developed mobile games, currently available at SK telecom, and is also working day and night to become a corporation that also runs the specialized game-business which demands the operation of a game portal.
In the future, all WTT employees will put in all their effort to develop through our customer's friendly reprovals and advices.